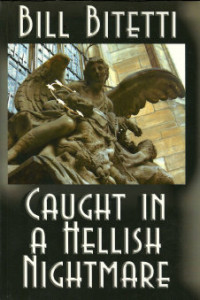 Living the good life in a mansion a few blocks from the beach in glamorous Boca Raton, Florida, Bill Roman unsuspectingly takes, Louie  Lombardo, a Mafioso as a business partner. Bill soon finds himself fighting against insurmountable odds to stay alive. While on the other side of the world, brokenhearted and searching for love, Grete Aune, reluctantly responds to the love ad Bill places in a Norwegian newspaper.
However, Grete fears for her life when her ex-fiance Vladimir Korensky,  a renegade Russian arms dealer, comes back to stalk her; only to find that she has promised her heart to another.
Separately, Bill and Grete struggle to escape the wrath of their vengeful  adversaries with the hope of one day meeting face to face.


Sample-Caught_In_A_Hellish_Nightmare

- by Bill Bitetti