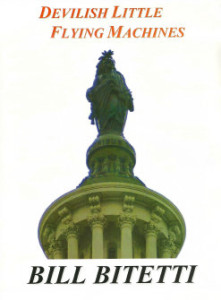 Two brothers, Nicholas and Gordon St. James, become estranged following the death of their parents in a hit-and-run accident in Gainesville, Florida.
Twenty years later, feeling betrayed after finding his fiancée in bed with another man and haunted by the loss of his parents, Nicholas falls into a deep depression. Meanwhile, on the other side of the country, Gordon is tormented by demons, obsessed with power, and consumed by his desire to control his wayward wife.
Unwittingly, these two misguided men are destined to once again cross paths after the older brother Gordon, president of a California drone manufacturer, becomes embroiled in a post 9/11-type attack that rocks the world. Is the time soon approaching when drone technology will become a Pandora's box full of unforeseen evils that cannot be undone?


Sample-Devilsh_Little_Flying_Machines.mp3

- by Bill Bitetti